Kiosk Deployment and Support Services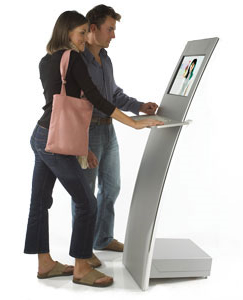 ServRight can plan and manage any size deployment - from a local pilot to a national rollout or equipment upgrade for any type of kiosk - photo, Internet, informational, transactional - in any market:
Equipment Staging and Shipping - ServRight assembles the equipment and loads the image software to Partner specifications, stages, performs 24 hour burn test then ships the kiosks and/or display panels.
Site Prep/Network Wiring - ServRight will implement the supplied network and wiring plan, floor and wall mounting as required for each installation site.
System Installation/Setup - ServRight completes final kiosk assembly onsite and attaches the kiosk or display panel to its appropriate network port. All systems are tested and certified per OEM instructions
Maintenance Services - After installation, ServRight can provide all support services required, including scheduled cleaning and preventative maintenance, along with remedial maintenance as required by the OEM or the customer on a same day, next day, or 24/7 basis.
Help Desk - ServRight provides 24/7 help desk capability for Level one and Level Two requirements.
Recent Kiosk Service Highlights:

Installed & performed testing of new retail kiosks across U.S. for innovative performance apparel provider
Nationwide deployment of kiosks for major shipping company
Kiosk technology refresh for major car rental company
Nationwide rollout of kiosks for major greeting card retailer

More Service Options:

Networking Support
Replacement Parts
Extended Coverage
Accelerated Response
Parts Swaps - Depot Service Center - Help Desk Services